Share and discuss at a highly
professional level the challenges
faced by bariatric surgeons
445
Number of
Cases discussed
63
Number of Virtual
Classroom completed
45+
Number of
Active Centers
2500
Number of members
from all over the world
445
Number of
Cases discussed
63
Number of
Virtual Classroom completed
45
+
Number of
Active Centers
2500
Number of
members from all around the world
Barialink consists of


two actively connected pillars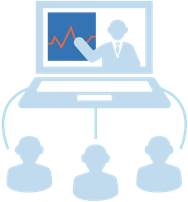 BARIAlink Academy
The academy is a monthly virtual classroom led by a body of 25 active centers and joined by a growing surgical community worldwide. Any interested center* or specialist can attend by signing up and logging in to the online platform.
Each session covers 8 to 10 complex and interesting case studies, submitted by the community and reviewed in advance by a scientific committee.

BARIAlink Library
All the cases and subjects submitted and discussed at BARIAlink Academy are stored online in the BARIAlink library.
Each case is fully documented, including X-rays, videos and, uniquely, longitudinal follow-up information regularly added by the submitting center. This information, along with complete recordings of all BARIAlink academy sessions, and a comprehensive directory of all participating centers is instantly available through the BARIAlink Library, from any device, anywhere in the world.